Football
Takeaways from College Football – Week Seven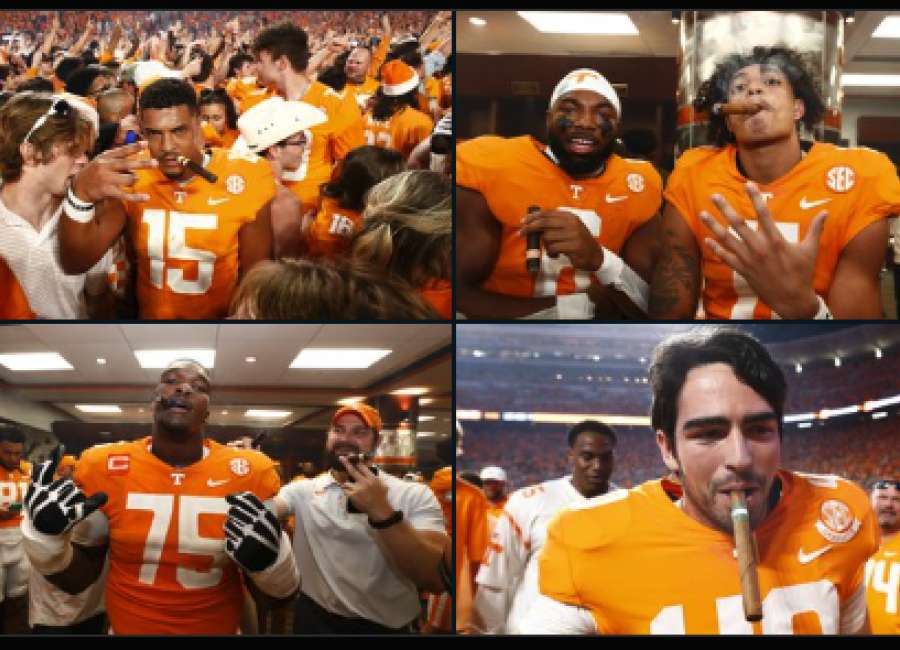 Six games featuring matchups between teams ranked in the top 25 set the stage for what proved to be one of the most exciting weeks in college football in recent memory, with eight ranked teams ending up on the short end of the scoreboard and a complete overhaul to the rankings coming soon.
In the Big Ten, # 5 Michigan absolutely dominated # 10 Penn State in the first half, leading in first downs (18 – 1), yardage (274 – 83), and time of possession (24 minutes vs. 6). Yet they only led by a score of 16 – 14. After halftime, the Wolverines dominated on the scoreboard as well, thanks to two explosive 60+ yard touchdown runs by a pair of running backs who combined for 339 yards and four touchdowns. Michigan – 41, Penn State – 17. Incidentally, the Nittany Lions allowed more rushing yards to the Wolverines (418) than the other five teams they defeated previously combined (398).
Speaking of dominant first halves, Oklahoma put up 487 yards of offense, 21 first downs, and 35 points in their game against # 19 Kansas, their second consecutive loss after a 5 – 0 start. Final tally for the Sooners: 701 yards, 36 first downs, and 52 points. The Jayhawks put 42 points of their own on the board in a losing effort, 52 – 42 being about par for the course in the high-scoring Big 12.
Speaking of the Big 12, the remaining undefeated teams in the conference, # 8 Oklahoma State and # 13 TCU, faced off in one of the best games of the week. Down by 17 points in the first half, the Horned Frogs stormed back in the second half to tie the Cowboys at 30, and then won the game in double overtime, 43 – 40.
Speaking of 43 – 40 games, West Virginia beat Baylor by the same score in the best game (out of two) on Thursday night.
In the ACC, # 9 North Carolina State lost to # 18 Syracuse, 24 – 9. Syracuse, now at 6 – 0 for the first time in 35 years, is on the road next week to face # 4 Clemson, with the lead for the conference's Atlantic Division on the line.
Speaking of Clemson, they beat an inconsistent Florida State team in Tallahassee, 34 – 28, setting the stage for next weekend's matchup with the only other undefeated team in the ACC.
In the Pac-12, # 20 Utah defeated # 7 Southern Cal in front of a sold-out home crowd, 43 – 42 in an absolute thriller. The Trojans dominated early, but the Utes fought back and scored their sixth touchdown of the game with 48 seconds left on the clock, after which Utah's fearless quarterback, Cam Rising, scored from three-yards out for a thrilling two-point conversion, sending USC head coach Lincoln Riley back to Cali with his first conference loss by a score of 43 – 42.
Speaking of the Pac-12, the two remaining teams without a conference loss, UCLA and Oregon, had the week off. That will change in the next two weeks, however, when the Bruins and the Ducks will collide in Eugene.
In the SEC, there were two top 25 matchups. # 22 Kentucky took care of # 16 Mississippi State in Lexington, 27 – 17. The Wildcats' Chris Rodriguez – by himself – rushed for eight times as many yards (196) as the entire corp of running backs from Starkville combined (22). The game was so dull that some of the viewing audience turned to a baseball playoff game between Houston and Seattle that wasn't decided until the 18th inning after the game's only run was scored six hours and 22 minutes after the opening pitch.
Speaking of long games, in a Big 12-style shootout in Knoxville, # 6 Tennessee ended a 15-year losing streak to Nick Saban by defeating the # 3 Crimson Tide of Alabama in an exciting 52 – 49 thriller. The Volunteers got a considerable amount of weight lifted off their shoulders with the win: in their 15-game dominance over Tennessee, the Crimson Tide scored a cumulative 590 while allowing Tennessee only 201. An Alabama drive in the first half featuring seven penalties and a loss of 12 yards proved to be a bad omen for the Tide. In a losing effort, Alabama suffered the most penalties (17) in Saban's tenure and allowed the most points in a game (52) since 1907. (It's worth pointing out that Todd Grantham, whom regular readers know I despise for ruining the Florida Gator defense while he was the coordinator, is now a defensive analyst for Alabama. Apparently there aren't any Alabama fans amongst my regular readers; otherwise, they would have known better.)
Alabama's loss, incidentally, was one of four losses by top 10 teams, the other three being USC, Oklahoma State, and Penn State. Three still have a chance to reach the playoffs. As for Penn State, their only hope is to win the rest of their games – # 2 Ohio State in two weeks is one of them – and then winning the Big Ten championship game against the winner of the West Division (your guess is as good as mine at this point).
One other thing worth mentioning: despite it being in a losing effort, Alabama quarterback Bryce Young's performance actually enhanced his chance of repeating as the Heisman winner. Young completed 35 of 52 passes for 455 yards, two touchdowns, and more escapes than Houdini.
Ending with a few odds and ends:
Top-ranked Georgia had little trouble with Vanderbilt at home, winning 55 – 0 in Athens. The bad news is that it was the Commodores' 25th straight SEC loss; the good news is that it was a seven-point improvement from last year's 62 – 0 blowout loss to the Bulldogs. Incidentally, Vanderbilt will celebrate its three-year anniversary of their last SEC win (Missouri) this coming Wednesday. Meanwhile, Georgia and Tennessee are now the only two teams in the SEC East without a loss.
# 9 Ole Miss didn't have as much trouble with Auburn as the final 48 – 34 score indicates. Lane Kiffin's Rebels are now the only team in the SEC West without a loss; Alabama and LSU both have one.
Speaking of LSU, the Tiger offense fired on all cylinders (or maybe it was Todd Grantham left his legacy of poor tackling and porous third down defense behind) in their 45 – 35 over Florida. Incidentally, it was Tom Petty Day in Gainesville (the late Petty is a Gainesville native). However, instead of living up to their adopted Petty theme song and refusing to back down, the Gators instead are now free fallin'.
Speaking of free fallin', # 25 James Madison lost to Georgia Southern, 45 – 38, giving them their first loss of the season and their last time being ranked in the top 25.
Speaking of not being ranked, Notre Dame lost in South Bend to lowly Stanford, 16 – 14, in a game that was even less exciting than that 18-inning, 1 – 0 baseball game.
There were a number of other what I imagine were exciting games this weekend – for instance, Maryland's 38 – 33 win over Indiana – but I can't say for sure because I couldn't find anyone who saw any of them.
They must have been watching that really long baseball game.
Scott Ludwig lives, runs, and writes in Senoia. His latest book, SOUTHERN COMFORT is his second collection of 101 columns. His first, SOUTHERN CHARM, and all of his other books can be found on his author page on Amazon. He can be reached at magicludwig1@gmail.com